The best underwater metal detector is a tough choice, so I've put a list together of some of the best underwater metal detectors used by professional treasure hunters around the world including the pro's and con's for each of them.
If you have never searched in the water with a metal detector before you are in for a fun experience. I'm a total water baby, I grew up surfing and just love being in the water. For me, any excuse to get wet is a good one, but to get wet while searching for treasure is an excellent excuse in my book. Snorkelling or Scuba diving is fun enough but add to that finding a bright shiny piece of gold and you will understand why underwater treasure hunting is my favourite way of treasure hunting. It can be very difficult at times when there is waves or currents but if you have a good detector it can make life easier and help you find more. Some people say "It's all in the water" I don't think that's true, but there is definitely a lot to find in the wet so it's worth giving it a try.
If you want to go treasure hunting in the water then it's a good idea to invest in a good quality underwater metal detector. Although the price tags can vary, I would recommend staying away from a detector thats too cheap. As the saying goes 'you get what you pay for' and that's especially true for metal detectors that are going to be used underwater. A cheap metal detector might be appealing at first but if it's not a well made machine then the water is just going to expose all it's faults very quickly.
No matter what detector you buy, all underwater detectors need a lot of maintenance, even the best ones. If you plan on going in salt water then cleaning your machine regularly is even more important. I thoroughly clean my detector after every time, it's annoying but it's just part of mixing water, salt and electronics.
At the end of the day, underwater treasure hunting is still awesome fun let's look at some of the best underwater metal detectors around to help you get started.
Minelab Excalibur 2 ($1600AUD)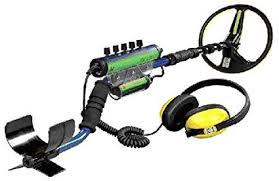 What a beautiful machine the Exacalibur 2 is! It's very easy to understand why plenty of underwater treasure hunters stick with this detector for life. The sounds this machine makes are just so consistent and clear that you can quickly become familiar with what good finds sound like. There is such a global community of people who use the Excalibur 2 making it easy to get the best out of this machine from the experts tips shared on online forums and youtube videos. After your warranty is expired you can get custom modifications to the excalibur 2 such as shafts, headphones, knobs and coils to make this metal detector even better (check out Joe Beechnut on youtube for Excalibur 2 modifications- click here).
Read what people are saying about the Minelab Excalibur 2 on the forums: click here
Pros:
Very easy to clean and sturdy design makes it very durable.
1 year manufacturers warranty (provided no modifications are made)
Simple to use for beginners is one of the best features of this detector. Switch on and go
200ft diving depth
Large community of users for modifications and tips/lessons. (Tony Diana's ear training is excellent- click here to listen)
Cons:
The knobs are easily broken, it's a common complaint (I recommend buying a knob guard).
Fixed coil 10 inch or 8inch ( I'd recommend buying the 10″).
Poor shaft design for beach detecting so you will likely want to invest in a straight shaft.
There is no way to determine when the battery needs charging. A battery light would be nice.
To find out more about Minelab metal detectors and the Excalibur 2: click here
 Ebinger UWEX® 725k (Secon Metal Detectors) (€3,927)
Although this detector brand is not so well known, it is definitely one of the best quality. Just ask professional treasure Hunter E. Lee Spence who said so himself- he's found more treasure than anybody. This is the latest underwater detector range from Secon who are based in Germany. The UWEX® 725k runs on a Pulse Induction (P.I) system designed by a German engineer that the company owns. These guys are the real deal in quality supplying NATO with their metal detectors. You just wont find a tougher detector that's built to last through any conditions. What makes this detector so unique is that it's a still-motion detector so you don't need to sweep it from side-to side for it to detect. It's kind of like a regular metal detector in constant pin-point mode.
Pros:
Foldable coil head and interchangeable coil heads.
200ft+ diving depth
Solid German quality and construction makes this machine virtually indestructable.
Low maintenance and very easy to clean, also comes with a hard carry case.
Cons
Small community of users so limited information available for new users
No discrimination, this machine has a very deep detecting range makes for a lot of digging.
The price tag is one of the highest for any underwater detector.
Designed only for finding 'anything metal' rather than jewellery and coins
To find out more about Ebinger metal detectors and the UWEX® 725K- click here
Whites Surfmaster PI Dual Field ($899.95 USD)
The Surfmaster PI is a popular underwater and beach detector with large 12 inch coil for finding deeper targets. Being a pulse induction means that there is no interference from the saltwater making it perfect for treasure hunting at the beach or in the ocean. It's very light and simple to use, and comes with a decent set of headphones. This machine is excellent at finding small gold, but it will give you a good workout digging everything as it has no discrimination. Like the Excallibur 2, the Surfmaster PI has a large community of loyal users. Here is a link to an interesting ear training video for the whites Surfmaster PI Dual Field to make finding gold a lot easier with this machine: click here
Pros:
Searches deeper than most other beach detectors on the market so you can find more.
100ft diving depth
Easy to operate design with just three dials to use.
Excellent at finding small gold and jewellery at the beach
Cons
No discrimination so you will have to dig everything rather than digging only non-ferrous signals.
Operates with AA batteries so you can't charge it via a wall outlet like other detectors.
Battery seal can leak if sand is not thoroughly cleaned you will have problems. High care is needed.
Shaft construction is flimsy and not as solid as other underwater metal detectors
To find out more about Whites metal detectors and the Surfmaster PI Dual Field: click here
Fisher CZ-21 ($1,499 USD)
Fisher is well known brand in America, not as well known in other parts of the world, but it's still a quality brand. If you do read any forums they have positive reviews of their products and service and the CZ-21 is no exception. The CZ-21 comes with a 2 year warranty which is saying something for the quality of this detector. Known for it's ability to find targets at a slightly better depth than other detectors with the same coil size is a handy plus for CZ-21 users. It's very close in price and quality of build to the Minelab Excalibur 2 however there are slight differences in features. The CZ-21 has a manual ground balance vs the auto of the excalibur, also the CZ is a little slower to cover ground with a concentric coil vs the Excalibur's Double-D coil, but the main difference is in the technology. The CZ operates on just two frequencies compared with the seventeen used by the Excalibur 2 and this is important for discrimination and for finding smaller targets. The CZ is very well built and proven to be successful on the beach and in the water, it's also very well priced for a machine of it's quality. Check out what the forums have to say about the Fisher CZ-21: click here
Pros:
250ft diving depth is a sign of quality
2 year manufacturers warranty is better than any other on the market
Ability to find deep targets makes this machine a favourite of many
Well priced with solid construction
Cons:
Operates with AA batteries so no abiliy to charge in a wall outlet
Concentric coil makes for slower ground coverage than a DD coil
Limited to 3 tones for targets makes it harder to distinguish finds before digging
Fixed coil size (8 inch or 10 inch)
To find out more about Fisher metal detectors and the CZ-21: click here
Minelab CTX 3030 ($2,499 USD)
A list of the best underwater metal detectors wouldn't be complete without the Minelab ctx 3030. This machine can only go up to 10ft deep in the water but for those treasure hunters without scuba gear the ctx 3030 is very hard to beat. Featuring all of the latest in technology, the ctx 3030 is an excellent machine in the water, on the beach or on the ground. A favourite of many beach and water hunters for it's ability to find gold and jewellery even on the most trashy sites the ctx 3030 has a very large community of users around the world. With all the bells an whistles a treasure hunter could ever ask for, the only problem is you pay for it. Have a read of Gary Drayton's blog, he's an advanced user of the ctx 3030 and regularly finds gold and jewellery on Florida's beaches that will make you eyes pop. If you want to learn from Gary about getting the most out of a Minelab CTX 3030 on the beach or in the water check out his blog: click here
Pros:
Highly customisable settings that can be saved for each type of treasure hunting situation
Excellent for finding jewellery with LCD display which displays multiple targets under the coil at any time.
Quality build with exceptional design and inner coil cable for easy shaft extension and retraction
The best features available on any metal detector in the market making it easier to know what you have found before you even start digging.
Cons:
Battery seal has leaking issues as does the usb connector (this is being replaced by Minelab)
Consistent maintenance needed after each use due to connection points and electronics
The price tag is one of the highest
Only 10ft diving depth makes it limited to shallow waters only.
To find out more about Minelab metal detectors and the ctx 3030: click here
Minelab Equinox800 (USD $899)
Ok so last but not least it's my favourite underwater metal detector the Minelab Equinox800. It's my favourite metal detector in and out of the water. It's so sensitive to help find small gold chains and yet it goes deep for the heavy gold too so there's not much treasure that's gunna get past this bad boy. Minelab have also extra coil options for the Equinox with a small 6″ and a large 15″ coils. The 15″ coil is a beast! It's very light to use and comes in a lot cheaper than the CTX and it even comes with the ability to use this on the Goldfields.
Pros:
Highly customisable settings that can be saved for each type of treasure hunting situation
Very sensitive to small fine gold chains
Very light machine that you can use in all treasure hunting conditions
Two extra coil options
Cons:
Has been a few 'wobbly shaft' issues
Only 10ft diving depth makes it limited to shallow waters only.
To sum up, we underwater treasure hunters are really lucky with the choice of underwater metal detectors to choose from these days. In regards to the best underwater metal detector, it's going to come down to a personal choice, if you want to search in deeper water the CTX 3030 isn't going to be suitable. But, if you're a shallow water/beach the CTX 3030 will be a first choice. Maybe you will want discrimination or maybe you want to go deeper and dig it all. Consider these important factors when you make your decision and if you can, speak to some other hunters in your local area.
No matter what detector you choose, if you get your hands on any of the above underwater metal detectors I'm sure you will be happy. Just take the time to practice using it. No matter how long you have been using a detector or which one you use, just make sure you keep learning and you will make better finds consistently. The water is difficult to search in but also a lot of fun so get a detector and get out there.
If you have another underwater detector that you think is the best let me know and I might add it to the list.
Good luck and happy hunting. I look forward to hearing about your finds.
Bondi Treasure Hunter.